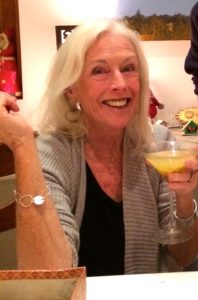 Annie Smith has written poetry since the age of nineteen.  In between then and now she was an English literature major at Middlebury, received her masters in art education and taught art to children and adults for eleven years. Changing gears she opened a restaurant in New Haven, Connecticut which expanded to a cooking school and catering business. In 1984 she moved from the east coast where she had lived until then, to Santa Fe, New Mexico. eventually missing  the ocean enough to relocate in Todos Santos, a small pueblo on the Pacific in Baja California Sur,  Mexico. There she began writing full time again and was published in Rattle and several other journals. She has led writing groups and founded a monthly open reading group in Baja. She now lives in Guanajuato and is working on a memoir about the death of her husband and continuing to write poetry.
Contact Annie Smith by e-mail
Two Samples of Annie Smith's Poetry:
The widow closes up
after the party 
the soon to be widow
 closed up the house by herself thinking of all the parties that they had closed up after.
It was a strange feeling 
after having so many people sharing her space to find herself alone in the room, 
the air still ringing with laughter and forks 
the house still aroused
in baronial, long table mode.
there's a certain excitement
in being so close to the spot
where death will close in.
What a joke she thinks
death is closing in on all of us
all the time.
death though had staked an immediate claim here in her home
and, as she held up her martini
she saw how determined she was that
life should go on
in the face of this
oh so personal
process of dying.
Giving Away Cookbooks
For  Scotty                                                                                                                                                                                                                 March, 2012
When you have cooked together with someone
using the same cookbooks over and over
it seems possible love might remain
in the topography of tomato bits,
the dampness of oil, a fleck of rosemary
caught near the binding.
Open one cookbook.
You might find in your mind, counters:
wooden
marble
granite
concrete
a rose in a marmalade jar
green tea mornings,
china town teapots
revisitable realities
soaked in loss
steeped in sensual memory,
old kitchens, longings
belongings and tastings.
How can you possibly choose which to let go?
You have already lost so much,
all that tightly wound energy,
the excitement that was him
before that terrible December
and then wasn't.
Now this,
this sorting                       and
you do it.
Out of 90 cookbooks
you part with 60.
two thirds of your lives cooking together.
You choose to keep:
Bruce Adel's pork book,
Indian, Asian, Diane Kennedy's
latest and last , Mediterrannean,
Spanish,Portuguese.
You choose not to keep:
books about pate with pictures,
Joy of Cooking,
anything French
Done
you sit silent
sensing your fingernails growing.
You feel them in fact, brazen things,
growing as though nothing at all
had happened here..