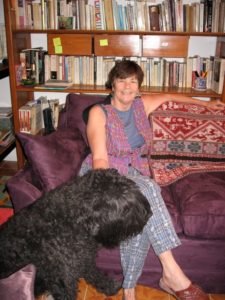 Not a snowbird, Miriam has lived in Mexico most of her life, born of a Mexican father and a mother from Philadelphia.  She holds citizenship of two of the North American countries mentioned living in Guanajuato full time.  Her studies in the United States include UCLA, Dominican College, and San Francisco State University where she earned a masters degree presenting orals on Emily Dickinson, Federico Garcia Lorca, and Gabriela Mistral.   Then continued her career in art education to earn a living.  In Berkeley she founded the Berkeley Child Art Institute, and wrote poetry and art reviews for the East Bay Express working with museums and painters in California. Invited to direct the education department at Museo del Barrio in Manhattan she moved to the East Coast where she tripled the number of kids served and made Dia de los Muertos a genuine celebration and outpouring after 9/11.  She returned to San Francisco to become Executive Director of the Museum of Craft & Folk Art.  She had also served earlier as Director of Education at the Mexican Museum, as well as Executive Director of the Children's Museum of Stockton.   During these years she published thirty-seven art reviews, many poems and won the Mary Roberts Rienheart Foundation Award for poetry, Syvenna Foundation Writers Retreat, Peter & Madelin Martin Award, and the Berkeley Child Art Studio Distinguished Service Award.  In 2003 Miriam attended the Getty Leadership Institute for Museums on a grant.
Current writing: Monograph: Enrique Luft-Pavlata for the Luft-Pavlata Foundation
Novel: Fireserpents.