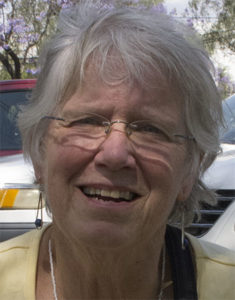 Paula Dunning lives in Echo Bay, Ontario with her husband Jack and two cats and spends her winters in Guanajuato, Mexico, with the other founding members of Embajadoras Press.
After her early years as a back-to-the-land wife and mother during the 1970s and 1980s, Paula embarked on a career as a freelance writer and editor, writing articles and speeches for both the private and the public sector. For twelve years, she was Editor of Education Canada, the flagship publication of the Canadian Education Association. She is the author of Education in Canada: An Overview (CEA, 1997).
Since retirement, she has turned her hand to memoir, essays, and short fiction. Her essays have been aired on CBC radio's The Sunday Edition and her short story, "The Red Kite", was submitted for the 2016 Journey Prize by Agnes and True, a Canadian Literary Magazine.
Her recently published book-length memoir focuses on two decades of farming in northern Ontario. But it is more than a story about going back to the land. With rural northern Ontario in the 1970s and 1980s as a backdrop, it delves into the personal conflicts and social pressures afflicting the generation of the 1960s as they moved into middle adulthood. In the harsh climate of northern Ontario, fantasies of pastoral serenity clashed with reality, traditional middle-class measures of success battled counter-culture and feminist alternatives, and the arrogance of book-knowledge butted heads with traditional, hands-on competence.
================================================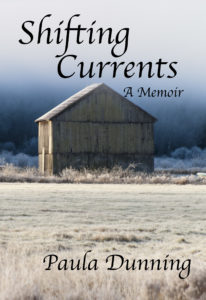 LISTEN TO PAULA DUNNING read from Shifting Currents and watch a brief slideshow with pictures from her farming years.
Beautifully written, by turns wry and poignant, Shifting Currents turns a landscape into a heartscape you will never forget.                  —Bill Roorbach, author of Temple Stream, Writing Life Stories,  Life Among Giants and The Remedy for Love
If you've ever entertained for one minute the fantasy of making your own maple syrup and milking your own cow, I'm sure you'll enjoy this wry and loving look at living the rural life.  — Elizabeth Creith, author of Shepherd in Residence

An interesting, honestly told story, beautifully written. I couldn't put it down. — Erna Paris, historian, journalist   

You have made me laugh and cry. A good combination in the stress of today's world. — Annie Smith, poet
A memoir that reads like a novel, with prose so clean it sparkles.        — Lilly Barnes, poet and author of Mara, a novel
 I was sorry when I came to the last page …this is truly the sign of a good book. — Judith Onley, author of Your Mastery…Live it Now!

Shifting Currents: A Memoir is available on Amazon
Amazon USA
Amazon Canada
Amazon Mexico—–
Contact Paula Dunning by e-mail
Visit her blog at: www.pdunningblog.com
CBC Essays:
Cuban Missile Crisis
www.cbc.ca/player/play/2293824286
Confessions of a Snowbird
Becoming Invisible
http://www.cbc.ca/radio/thesundayedition/a-fine-line-middle-age-and-old-age-1.2948268
Short Stories:
The Red Kite
http://agnesandtrue.com/the-red-kite/