Shifting Currents: A Memoir, by Paula Dunning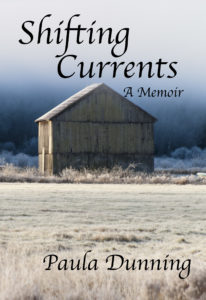 Paula Dunning's  book-length memoir focuses on two decades of farming in northern Ontario.  But it is more than a story about going back to the land. With rural northern Ontario in the 1970s and 1980s as a backdrop, it delves into the personal conflicts and social pressures afflicting the generation of the 1960s as they moved into middle adulthood. In the harsh climate of northern Ontario, fantasies of pastoral serenity clashed with reality, traditional middle-class measures of success battled counter-culture and feminist alternatives, and the arrogance of book-knowledge butted heads with traditional, hands-on competence.
Listen to Paula Dunning reading from Shifting Currents:
Part One: Flowing Backwards
Part Two: Not Really a Christmas Card
Part Three: Farming by the Book
Part Four: What's in a Name?
Part Five: Questions
Watch a slide show from Paula Dunning's days on the farm.
Paula Dunning's richly detailed and honest account of going back to the land, makes me by turns admiring and envious…I identify with Dunning's struggle to remain true to her principles while getting along with her neighbours, and I both laughed and sighed throughout this memoir. If you've ever entertained for one minute the fantasy of making your own maple syrup and milking your own cow, I'm sure you'll enjoy this wry and loving look at living the rural life.
— Elizabeth Creith, author of Shepherd in Residence
Shifting Currents is the story of a woman becoming, a family prevailing, of shifting mores in a world of upheaval, an era of experiment.  But most of all it's a portrait of a time and a place…Beautifully written, by turns wry and poignant, Shifting Currents turns a landscape into a heartscape you will never forget.
— Bill Roorbach, author of Temple Stream, Writing Life Stories, Life Among Giants and The Remedy for Love
An interesting, honestly told story, beautifully written. I couldn't put it down. — Erna Paris, historian, journalist   

You have made me laugh and cry. A good combination in the stress of today's world. — Annie Smith, poet
A memoir that reads like a novel, with prose so clean it sparkles.        — Lilly Barnes, poet and author of Mara, a novel
 I was sorry when I came to the last page …this is truly the sign of a good book. — Judith Onley, author of Your Mastery…Live it Now!

Shifting Currents: A Memoir is available on Amazon:
Amazon USA
Amazon Canada
Amazon Mexico